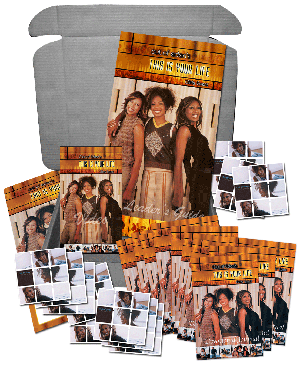 Out Of Eden * This Is Your Life, Girls Event (Gotee/ Interlinc/ Chaffee Management Group, 2003) Featured guests include: Frankie Watts/ Stacie Orrico/ Margaret Becker/ Jason Perry/ Nancy Alcorn/ Tim Johnson
A must have for teenage and young adult women. Each package is complete with a long form video, leader's guide, devotional journals and copies of Out Of Eden's latest cd.
In collaboration with female ministers across the country, the Kimmey sisters offer personal testimonies and tips about how to cope with sex, abuse and other pertinent issues. Featuring "on the street" interviews and a panel of high school girls, this is a video that will help young women to decide what it means to be a Godly woman.
For fans of self esteem books by: Mary Mary/ Brooke Shields
Sessions: Discovering Life's Destiny and Purpose
Finding Security and Acceptance
Maintaining Modesty and Fashion in Today's World
Discerning God's View On Destiny and Sexual Purity
Overcoming Abuse
Sorting Out Parental Relationships
Music Videos: Looking For Love/ Meditate

The Rebirth of Kirk Franklin Live (Gospocentric, 2002) Featured artists: Richard Smallwood/ Shirley Ceasar/ Willie Neal Johnson/ Michael Robinson/ 1NC
Taped at the Lakewood Church in Houston, Texas (Israel Houghton/ Cindy Cruse Ratciff), this DVD takes you into the heart of worship. Just like at any Kirk Franklin concert, the energy level is high and the enthusiastic crowd fills up the stadium sized church, getting caught up in the anointing.
The only "flaws" perhaps, is the idea that we wouldn't want to see the concert in its entirety. Cutting the program up and interspersing interviews ... And the interviews are moreso interludes, which is disappointing especially in the case of the late Gospel Keynote, Willie Neal Johnson.
However, these are all minor annoyances compared to overall package. Which includes behind the scenes footage of choir rehearsals on stage and in the sfudio. Also included is Kirk's "Brighter Day" video.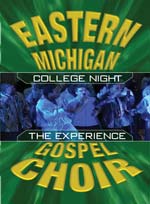 Eastern Michigan Gospel Choir * College Night: The Experience (DoRohn Entertainment, 2003)Running Time: 91.5 Minutes Rated G

Started in 1972 by Martha Cotton, this college based choir is a dance/drama/music ministry. Though it was originally formed to create unity between Black students, the former Eastern Michigan Black Gospel Choir has become a multi-cultural organization.
Through energetic performances and enthusiastic interviews, this is a great video for the whole family to enjoy. Featuring songs from the albums, "Get To The Concept" and "Patriotically Yours".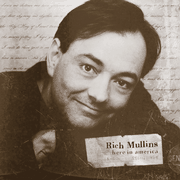 Rich Mullins * Here In America (Reunion, 2003)

"I really wanted to do something with my life where I helped somebody."

Though gone from this world, artist, Rich Mullins continues to minister through his music and life. Here on this CD/DVD companion set are live performances, testimony, storytelling; rare footage and demos that give unfamiliar audiences the chance to experience the very essence of this Man of God.

Songs & Short Stories included on DVD: I Will Sing/ We Are Not As Strong As We Think We Are/ Creed/ "Sex and Self Confidence"/"A Reason To Party"/ "Women & Tragedy"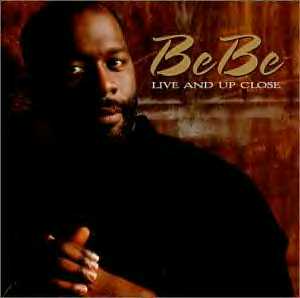 BeBe Winans * Live & Up Close (Motown, 2002)
Featured artsts: Byron Cage, Debbie Winans-Lowe, Margaret Bell-Byars, Ricky Lawson, Juan Winans & Stephanie Mills
BeBe shines on his first concert video, singing mostly new compositions that manage to hit the listeners in the heart. However, the crowd doesn't really get on their feet until Winans goes into some of the older material. Using baby sister, Debbie, as a perfect substitute for former singing partner, CeCe.
In fact, this is worth the price of admission alone, just to see BeBe and Debbie sing the special ad-libs on "Lost Without You" that they've been doing in concert for years.
Favorites: It All Comes Down To Love; Humpty Dumpty; BeBe & CeCe Medley
His Woman, His Wife --The Musical (Gospocentric, 2000)
Starring MALIK YOBA & LaShanda Reese
Written and directed by David E. Talbert
The story of a man afraid of committment --even after living with his girlfriend for three and a half years. She wants to be all that God wants her to be, but he wants everything to stay the way it is.
Strong performances by Malik Yoba, LaShanda Reese and LeCresia Campbell (Walt Whitman's Soul Children of Chicago). Profanity use may be a turnoff to those looking for entertainment to share with their kids. Yet, the profanity isn't as blatant as in Tyler Perry's plays. Still, I don't recommend this video for children. But for mature adults, this is tight.
Antonious * "In God We Trust" (Grapetree Records, 1999)
With cameos from Prime Minister and Amani, this video attempts to articulate the dangers of worshipping money instead of God. Shot on location in Houston, Texas.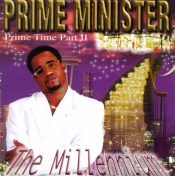 Prime Minister * "In Tha Ghetto" (Grapetree, 1999)

From his second album, "Prime Time II: The Millenium", comes this video shot in Houston, Texas' 3rd Ward. From dancing on a roof to exhorting inside of an condemned building, Prime seeks to encourage social reform in America's urban neighborhoods.