Fiction by LaZeric Fridell Freeman
send to a friend

What We're Reading:
Toms, Coons, Mulattoes, Mammies & Bucks (4th Edition) * Donald Bogle
Cheaters * Eric Jerome Dickey
Between Brothers * C Kelly Robinson
The Maintinence Man * Michael Baisden

Afrocentrex.com
Books 2 Check Out:

* Making A Miracle * Hunter Tylo (Pocket Books, 2000)
* Measure Of A Man * Sidney Poitier

Transparent by Erica and Tina Campbell with Sheeri Mitchell (True Ink Publshing, 2003)

Platinum sales, a Grammy for their first project, public display of affection from former talk show host/MTV personality, ANANDA LEWIS ... Mary Mary have received many public blessings, but where did they come from? Who are these gorgeous women that sing so passionately about a risen Savior?

Combining a fashion magazine concept, self-esteem guide, Bible study and autobiography, Erica and Tina let you into their world, in hopes of encouraging you to move closer towards your own dreams. And they hold nothing back. With all of the charm and enthusiasm that we've come to love, they share the experiences of growing up with less than their peers, performing on the popular Gospel theater circuit and singing background for Mainstream acts. Most of all, they share the love and words of Christ in an easy going manner that is sure to delight youth ministers all over the world. This is a great read for all who dare to get to know these ladies of Soul better.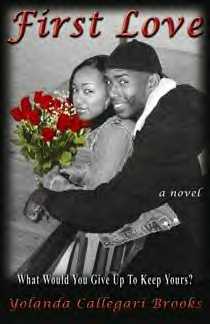 First Love * Yolanda Callegari Brooks (B.O.W. Press, 2002)
Amani is a young sister who's trying to hold on to God's unchanging hand. But when she meets NBA hopeful, Marley, she pretty much loses her mind in typical teenage fashion. At the same time, standing in the way of their pure romance are
raging hormones, hoochified cheerleaders and revealed mistakes from the past.
With an excellent cast of supporting characters, detailed imagery and fluid writing that you'll get lost in, this story is a shot in the arm to the traditional world of Christian fiction --which deals 99.9 percent with Caucasion characters and romances. However, Amani,Marley and company are anything but traditional. The characters are Gospel music loving, church going and full of the emotional conflicts that real life Christians go through. This book is a blessing.
For fans of: Victoria Christopher Murray/ ERIC JEROME DICKEY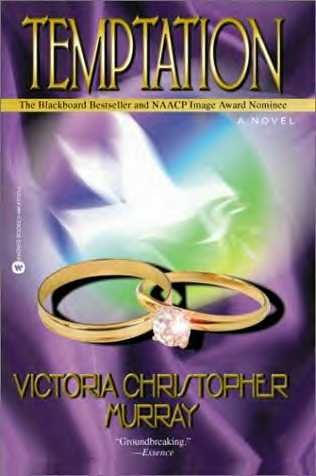 TEMPTATIONS by Victoria Christopher Murray (Walk Worthy Press, 2000)

Whenever a new book comes out, you often see the phrase, "a good
read" or "I couldn't put it down" and that's usually the quotes that their celebrity friends leave on the back cover. Leaving you to wonder if they even read the whole book.

Here we are introduced to a sexy African American couple --Kyla and Jefferson Blake. Kyla is a stay at home mom looking for an extra purpose to her life. And Jefferson is a prominent doctor who wants his wife to simply enjoy taking care of her family. When his dream of how a family should operate is challenged, Jefferson ends up in the bed with Kyla's hoochified best friend, Jasmine. Thrown into the mix is Alexis --Kyla's other best friend-- who goes so far as to get up in Jasmine's face and tell her to stay away from the once happy couple. However, Jasmine is on some Pine Valley/Melrose Place/Knot's Landing type of vibe and refuses to stop until she makes Jefferson her own husband.
Whoo ... Talk about drama.
This tale has all of the makings of a night-time soap, except that the entire cast is African American and several of the characters are attempting to live Saved lives. Unlike some Mainstream romance novels featuring brown-skinned people, you can feel these characters --as if they were people that you knew
personally. And unlike most Christian romance novels, we are allowed into the sexual lives of the Saved and UnSaved in a tasteful, yet appealing manner. And the author should be especially applauded for this. With that in mind, believe it when folks say that this book is GOOD.