Thank you for joining us. Though it is unlikely that we will be posting new reviews, please use this site as a resource for your Christian music needs. Also, feel free to contact me for questions about the music or to book me as a DJ for your event. God bless and thank you for your continued support.
12/8/04 LaZeric Freeman aka TruSoulDJ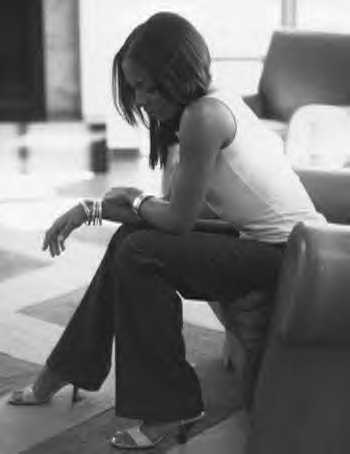 Lisa from Out Of Eden
What is on this site?
Click on the division of Christian music that interests you on the toolbar below .
What makes Christian music so fascinating --besides the message-- is that every genre of music is represented within the sphere of Christian music.
***If you grew up on House music in Chicago or New York, check out the DANCE page. Hip-Hop, Jazz, etc.
***There are book reviews (PB Bookbag), video reviews, interviews (Droppin Jewels) and tips for DJs ... enjoy!!!
Check our Jazz page ... Click here!
"This has been bred into me since the time I began to rap. I've always lived by the rule that if you have a chance to say something and be heard by millions of people, why you gotta tell them some stupid sh**? Say some sh** that's going to help them, or make them aware of something they don't know about."

**Mainstream rapper, COOLIO --THE SOURCE MAGAZINE, OCTOBER 1997



"I was only ten when my mother came to me. She said, you can sing for the Lord, or you can sing for the world, but you're not going to do both. I chose the Lord and have never looked back since."

**VERITY recording artist, MARVIN SAPP



"Many hip-hoppers spent their childhood in or around the church. Those teachings are still in us, but the rhymes that make the cheese are not going to end up in anybody's hymn book. So we sit on the fence, go to church and then back to the studio. Everybody needs something or somebody greater to believe in. But we ain't diggin' the idea of sacrificing a good life for a seemingly intangible greater life. The question is: do we really have to?"

**Writer, SHERRYLL ATKINS --THE SOURCE MAGAZINE, NOVEMBER 1996



"I love talking sh**. Everybody does. I'm just lucky enough to get to talk sh** for money. Who I am on the record is not who I am in real life though. Kids in the game get confused and try to live the life they rap about. That only works for people in the choir ... I get asked how I can say things like, 'I'm covered in the blood of Our Lord and Savior Jesus Christ' and then be talkin' that wild sh** on my record. My answer to that is God knows my heart. Ain't nothin' like being a child of God because I know other people really don't have the power to judge me. Besides, I ain't gonna change overnight."

**Mainstream rapper, YO-YO --THE SOURCE, NOVEMBER 1996